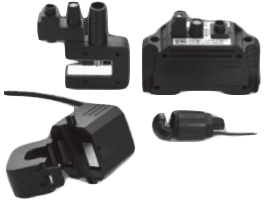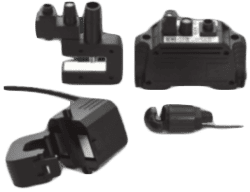 TQ
Current transformer
Split-core current transformer according to IEC
61869-2 for easy mounting in existing installations
Kompaktstromwandler TQ40-B Ø 18 mm
Split-core CT
TQ40-B Ø 18 mm
Ø 18 mm
100 up to 200/1 A
Kompaktstromwandler TQ40-C Ø 28 mm
Split-core CT
TQ40-C Ø 28 mm
Ø 28 mm
200 up to 500/1 A and 250 up to 500/5 A
Kompaktstromwandler TQ50-E Ø 42 mm
Split-core CT
TQ50-E Ø 42 mm
Ø 42 mm
250/1 up to 1'000/1A  and 300/5 up to 1'000/5A
Kompaktstromwandler TQ50-L Ø 2x42mm
Split-core CT
TQ50-L Ø 2x42mm
2x Ø42 mm
250/1 up to 1000/1 A resp. 300/5 up to 1000/5 A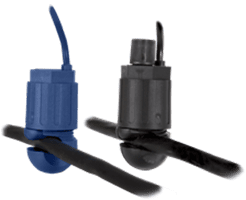 UAD16 – Voltage tap for wires
In existing installations a fused terminal is rarely available for measurement purposes. This unique tapping clamp allows for tapping of a fused voltage through the insulation without having to shut down the installation. The UAD16 can be installed using only one hand and without need for additional tools. The clamp is mounted directly on the primary conductor where a small blade cuts through the insulation, which results in an optimal degree of safety. This unique product is a breakthrough for fast and safe measurement in existing installations.
Pros
Safe voltage-tapping for KWh-meter purposes
Including a 5×25 mm, 2A fuse
Meters can be replaced without interrupting the entire installation
For insulated 10–16 mm² conductors, stranded and solid
No tools needed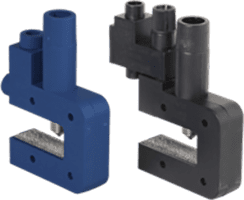 UAK – Voltage tap for busbar
The UAK series of insulated busbar terminals lets you connect your instruments to live busbars. A fuse holder is an integrated part of this terminal, providing you with protection at the source. The terminal can be installed directly onto the busbar using an insulated Allen key driver. This makes the installation of this unique product a one handed exercise.
Pros
Safe voltage-tapping for KWh-meter purposes
Including a 5×25 m, 10 A fuse
Meters can be replaced without interrupting the installation
Max. conductor rail size 15 mm/4 mm
Short circuit strength 70 kA