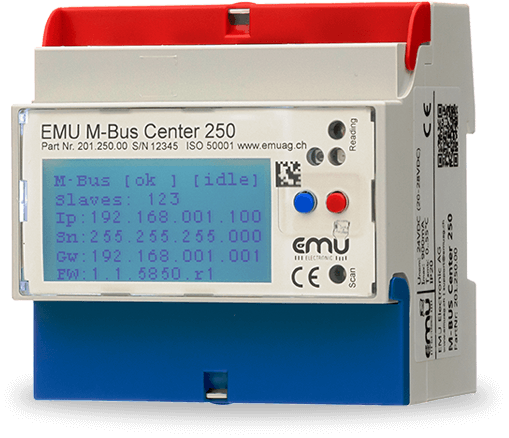 EMU M-Bus Center
EMU M-Bus Center
M-Bus data logger with integrated web-server
Internet of Things and Industry 4.0 ready
M-Bus to BACnet IP and OPC UA
Made in Switzerland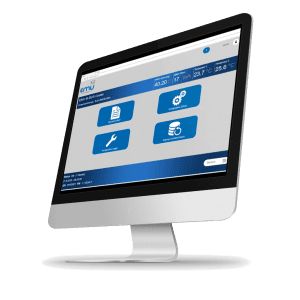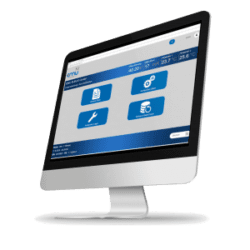 Flexible and expandable
The M-Bus Center is configured entirely using an appealing, user-friendly interface operable with any customary web browser (HTML5). The graphic display shows the IP-address which can be configured manually or obtained via DHCP.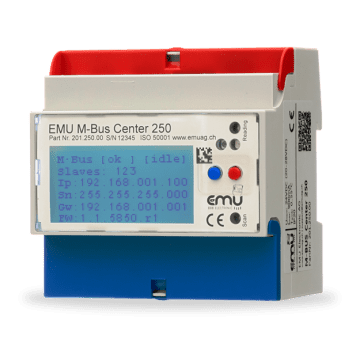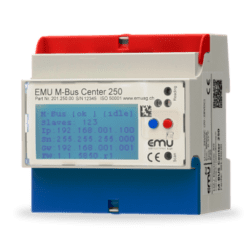 M-Bus to BACnet IP Gateway
Furthermore the M-Bus Center is an ideal system component for integration into a BACnet IP network. Once an M-Bus meter is registered or imported to a Center, it is immediately readable via the BACnet IP. The M-Bus Center and the registered M-Bus slaves are each detected as separate device objects with a static list of analogue input objects (M-Bus value). Integration into a higher-level BACnet IP system requires no configuration.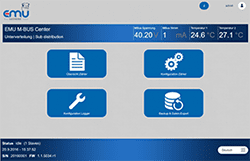 Allgemeine Menüführung
General menu navigation
Overview of all meters
Meter and data logger configuration
Backup and data export
Status of the M-Bus readout is immediately visible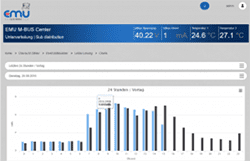 Grafische Verbrauchsauswertung
Visualisation
Daily usage
Weekly usage
Monthly usage
Annual usage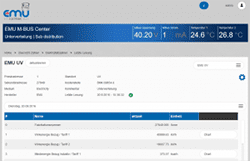 Momentante und Historische Messwerte
Ongoing and historic measurements
Meter identification including name, cost centre and location
Measurements of the last readout
Last readout of specific dates, e.g. end of month
Inbetriebnahme
Testing and

commissioning
The M-Bus Center with integrated high-power level converter enables rapid configuration and commissioning.
The automated read-out of up to 250 M-Bus slaves guarantees error-free and continuous data acquisition for later use in analysis and billing.
Automatic meter scan
Supports M-Bus primary and secondary address
300 to 9600 baud, 2400 baud recommended
Anbindung an Energiemanagement nach ISO 50001
Plug & Play communication to
energy management and billing software.
As an open energy management system, all energy meters with M-Bus are read. If necessary, individual device drivers can be created. All available measured values are archived and transferred to a higher-level energy management and billing system e.g. EMU Joulio-Web
Investitionsschutz
Protection of investment
The open communication and gateway functions
allow our energy meters and data loggers to communicate
with systems of different manufacturers.
This protects your hardware and installation investments.
Hard- und Software
Hard- and Software

Integrated high performance level converter
MicroSD card for data storage
Modular software architecture
M-Bus short-circuit and current monitor
Integration in bestehende Systeme
Data communication
M-Bus to BACnet IP
M-Bus to OPC UA
Data expot as .CSV and .JSON
(s)FTP Upload
Item Numscription
201.250.00 EMU M-Bus Center for 250 M-Bus meters (250x1.5mA)
---
201.120.00 EMU M-Bus Center for 120 M-Bus meters (120x1.5mA)
---
201.060.00 EMU M-Bus Center for 60 M-Bus meters (60x1.5mA)
---
201.020.00 EMU M-Bus Center for 20 M-Bus meters (20x1.5mA)