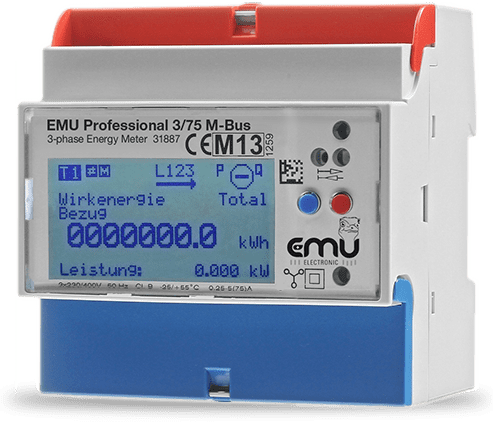 EMU Professional
EMU Professional
3-phase energy and power meter with MID B+D
approval for energy-managment according to
ISO 50001
Made in Switzerland  
Konfiguration
Configuration
Configuration can be done by using the keys on the EMU Professional kWh-meter.
Current transformer ratio (5/5 to 20'000/5 and 1/1 to 4'000/1A)
M-Bus, Modbus or IP addressing
S0 pulse-output: Rate and length
Threshold optimization (peakcontrol)
Features
Transformer ratio, pulse rate and length, addressing adjustable by keys
Double tariff (high/low tariff - day / night)
Read-out interfaces: M-Bus, KNX, Modbus RTU & ASCII, Modbus TCP, LONworks, web server, direct-http
Peak load optimization
Ausleseschnittstellen
Read-out interfaces

The EMU Professional can be equipped with a variety of read-out modules. All read-out modules are integrated in the EMU Professional where they are protected from contamination and manipulation. A variety of measurement readings can be transferred via these interfaces. For instance active and reactive energy, current, voltage, active, reactive and apparent power, power factor, power frequency and  minimum and maximum values.
M-Bus
KNX
LON
Modbus RTU & ASCII
TCP/IP (Webserver, Modbus TCP, Direct-http)
S0 impulse outputs
S0 pulse outputs
On the EMU Professional there are 4 S0 pulse outputs (Opto Power MOSFET, 5–400V AC or V DC, 90 mA) available.
Active energy import
Active energy export
Reactive energy import
Reactive energy export
Pulse rate per kWh/kvarh: 0.001, 0.01, 0.1, 1, 10, 100, 1'000 or 10'000
Pulse length in milliseconds: 4 to 250 ms, adjustable in steps of 2ms
Default configuration ex factory:
Direct connection: 1'000 pulse/40 ms
Current transformer connection: 10 pulse/120 ms
LCD-Display
LCD-Display
A 60x30 mm graphic LC-display with LED background lighting allows for a high contrast read-out of parameters and settings in any lighting conditions. The desired menu language can be selected via the keys. The clear and intuitive operation makes commissioning and daily use of the energy meters very easy.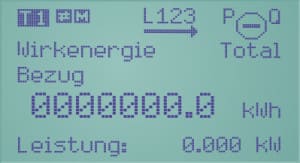 Eichung
MID approval & Billing purpose
EMU Professional has been tested and approved in accordance with MID modules B + D (Measurement Instrument Directive).
MID Module B = Approval of the energy meter
MID Module D = QM system for manufacture and final inspection
With additional certification according to module D, QM system for manufacture and final inspection, all EMU Professional can be used for billing purposes within the European Union ex factory.
Direct meter 75A
Item number Description
P0200000 EMU Professional 3/75
---
P020000K EMU Professional 3/75 KNX
---
P020000M EMU Professional 3/75 M-Bus
---
P020000TEMU Professional 3/75 TCP/IP (Webserver, Modbus TCP)
---
P020000LEMU Professional 3/75 LON
---
P020000MOEMU Professional 3/75 Modbus (RTU & ASCII)
Converter meter
Item number Description
P1200000 EMU Professional 3/5
---
P120000K EMU Professional 3/5 KNX
---
P120000M EMU Professional 3/5 M-Bus
---
P120000TEMU Professional 3/5 TCP/IP (Webserver, Modbus TCP)
---
P120000LEMU Professional 3/5 LON
---
P120000MOEMU Professional 3/5 Modbus